Mechanical Bull rentals AZ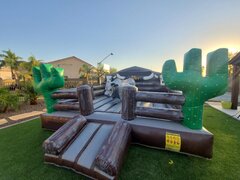 Mechanical Bull Rental Phoenix
Are you ready to add some wild, bucking excitement to your next event with the mechanical bull rental Phoenix can't get enough of? Look no further than Bounce House Rentals AZ, the ultimate destination for event equipment and exhilarating entertainment! When it comes to electrifying fun, we've got it all – and then some! Choose us for an adrenaline-packed experience that'll have your guests hooting and hollering with joy.
Whether you're planning a rodeo-themed birthday bash, a western-style corporate event, or just a good ol' fashioned backyard shindig, we have the perfect rentals to match your party's vibe. Our mechanical bull ride is meticulously maintained and designed with both safety and thrills in mind, ensuring a bucking good time for riders of all ages and making us the top provider of a mechanical bull rental Phoenix Arizona can trust. From prompt delivery and setup to expert supervision during the event, their team handles it all. You won't have to worry about a thing, except maybe hanging on tight while that mechanical bull does its thing!
We're proud to be the all-inclusive party provider for Phoenix, Arizona, and the surrounding communities of Maricopa County. Our team has been involved in countless special occasions, and the best part of our job is making our customer's events unforgettable. When you work with our experienced, professional, and thoughtful team, you'll create memories that will last a lifetime, all without breaking the bank.
So, if you're ready to take your Phoenix mechanical bull riding to a whole new level, lasso in the fun by browsing our interactive website. With our top-notch mechanical bull rentals, unbeatable customer service, and commitment to making your event a roaring success, we're the go-to choice for party planners and fun-seekers across Maricopa County. Get ready to ride the mechanical bull rental Phoenix loves from Bounce House Rentals AZ– where the fun never stops and the bull never stands still!
The Mechanical Bull Phoenix Uses to Amp Up Any Event
We've got the mechanical bull Phoenix party planners know is the talk of the town and is perfect for a wide range of events, making any gathering an absolute hit! Ready to inject some high-octane energy into your party? Look no further! We've got you covered with bull-riding excitement that knows no bounds.

From birthday bashes that need a wild western flair to corporate events that crave a dash of adrenaline-pumping fun, our mechanical bull rentals have seen it all. They're a huge hit at backyard BBQs, making family reunions extra special with laughter and cheers echoing through the air. School and community events get a whole new level of enthusiasm as kids and adults alike line up to take a ride on the thrilling bull.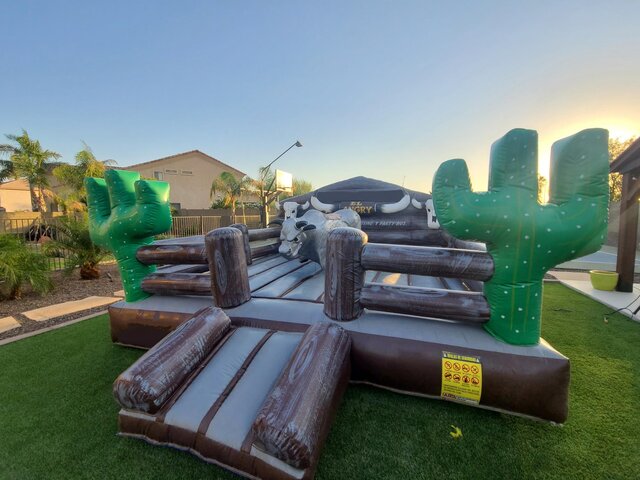 We've got the mechanical bull Phoenix knows is always the star of rodeo-themed parties, creating an authentic experience that'll have your guests feeling like true cowboys and cowgirls. Company picnics and team-building events find a unique twist with our mechanical bull, fostering friendly competition and camaraderie. There are laughs all around and plenty of memories being made when the boss fights off the bucking bronco!

Holiday celebrations become unforgettable affairs as everyone takes turns to challenge the bull. And who could forget fundraisers and charity events? Our mechanical bull rentals in Phoenix add an engaging and fun element that encourages generous support for a good cause. Take your party up a notch by adding inflatables, interactive games, and the #1 rock wall rental Phoenix has to offer to your cart! No matter the occasion, our mechanical bull rental in Phoenix Arizona promises excitement, laughter, and unforgettable memories. So, if you're ready to bring the wild west to your event, hop on board and let the bucking adventure begin!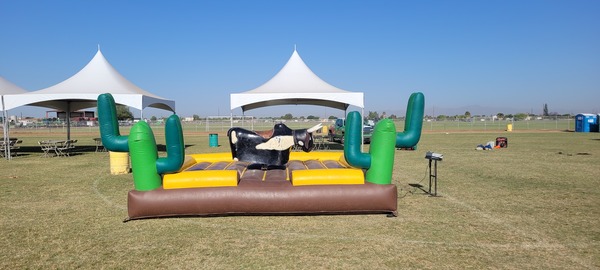 The Mechanical Bull Rental Phoenix AZ Knows Will Be a Good Time for All!
We offer the top-quality mechanical bull rental Phoenix AZ can trust to entertain and delight guests of all ages! Our rentals are unparalleled, offering an exhilarating array of options to suit any event. Beginning at $850 for a full day's worth of rental time, our inflatable mechanical bull is often reserved for bachelor or bachelorette parties, community fairs, fundraising events, business grand openings, happy hours, wedding receptions, school carnivals, corporate team-building weekends, high school class reunions, and so much more!
The fun never stops with our state-of-the-art mechanical rides, and, best of all, they're enjoyable for everyone! Whether you're fighting the bucking bronco or watching from the sidelines, the bull makes for endless entertainment for all involved. We have both small and large bull rentals available, making this inflatable a hit for ages 12 and up with adult supervision.
How To Rent a Mechanical Bull Phoenix AZ Online Today
We make it quick and easy to rent a mechanical bull Phoenix AZ party goers of all ages will love. It's a breeze with our user-friendly online rental system. In just a few simple steps, you can secure the excitement of bull-riding for your upcoming event. Browse our website and navigate to the "Mechanical Bull" rental item. Click on the "Book Now" button, and you'll be directed to our straightforward reservation form. Fill in your event details, including the date, time, and location, and proceed to the secure payment process. Rest assured, your personal information is safe with us. We accept any major credit card when using our online reservation system.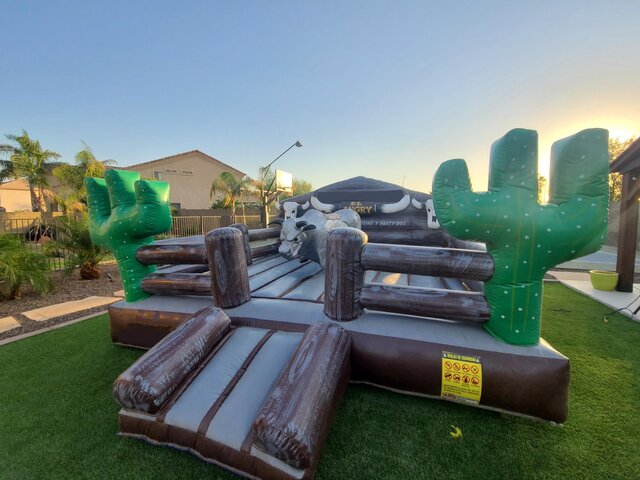 With your reservation complete, our friendly team will get in touch to confirm the details and discuss any specific requirements you may have. On the day of your event, our experienced staff will handle the delivery, setup, and supervision, ensuring a seamless and memorable experience for all your guests. Renting a mechanical bull Phoenix AZ guests will have a ball with online is not only convenient, but it also guarantees a rip-roaring good time at your event, leaving you with nothing but smiles and cheers all around! Giddy up and book online today!
Delivering the Mechanical Bull Phoenix AZ and Surrounding Areas Depend On
At Bounce House Rentals AZ, we take pride in delivering the mechanical bull Phoenix AZ, and the surrounding areas can't get enough of. We understand the importance of convenience, and that's why we've got you covered with delivery in the following zip codes in Maricopa County: 85003, 85004, 85006, 85007, 85008, 85009, 85012, 85013, 85014, 85015, 85017, 85019, 85020, 85021, 85022, 85023, 85024, 85027, 85029, 85032, 85034, 85035, 85040, 85041, 85042, 85043, 85045, 85048, 85050, 85051, 85053, 85054, 85083, 85251, 85254, 85255, and 85282.
Not only do we cater to individual parties and events, but we also partner with various school districts to bring the excitement of mechanical rides to students. Our partnered school districts include Cave Creek Unified School District, Chandler Unified School District, Deer Valley Unified School District, Dysart Unified School District, Paradise Valley Unified School District, Peoria Unified School District, and Scottsdale Unified School District. We firmly believe that fun and learning can go hand in hand!
NOTE: Extra fees may vary depending on how far you are outside our service area.
We bring wild fun to local parks as well! Look out for our mechanical bull at Margaret T. Hance Park, Encanto Park, and Civic Space Park, where we ensure safety, supervision, and endless entertainment for park-goers. Bringing the excitement of a western town in Phoenix with mechanical bull rentals that everyone can enjoy!

Looking for more adventure? Try our thrilling rock wall rental Phoenix AZ. With our efficient delivery service and commitment to creating unforgettable experiences, Bounce House Rentals AZ is your go-to destination for the mechanical bull Phoenix AZ trusts. Get ready to ride the bull and make your event the talk of the town!
FAQs About Mechanical Bull Riding in Phoenix
Curious about mechanical bull riding in Phoenix? We're here to answer your questions and ensure your rental process is smooth and streamlined. Take a look at our FAQs below and get in touch with our team if you have any additional questions.
Q.
Does it need to be plugged in the whole time?
A.
Yes, as long as it's in use, the mechanical ride in Phoenix will need to be plugged in to remain inflated and usable.
Q.
Are the mechanical rides safe?
A.
Yes, they've been industry tested and pre-approved for rental. When you schedule mechanical bull riding in Phoenix with our team, you can rest assured that we've taken every precaution to keep our rides safe and secure.
Q.
How much does it cost to rent a mechanical bull?
A.
Our mechanical bull ride begins at $850 for a full-day of rental time. We understand many people are on the hunt for cheap mechanical bull rental prices Phoenix can depend on, and that's where we come in. Our prices are competitive, and our equipment is anything but cheap. Made with high-quality vinyl and including the latest safety features, you'll get your bang for your buck with this ride, no pun intended. We're confident our mechanical rides are just as cost-effective as they are exhilarating!
Q.
What ages can use the mechanical bull?
A.
We recommend ages 12 and up try out our mechanical bull riding in Phoenix with adult supervision. The ride can begin very slowly to allow the rider to become acclimated before accelerating. More advanced or older attendees can work their way up to fighting off the bucking bronco!
What Our Customers Are Saying About The Mechanical Bull Riding Phoenix Knows And Loves
Our great customer reviews speak volumes about the
mechanical bull riding Phoenix
knows and loves and the unforgettable experiences we provide at This company. Don't just take our word for it; hear it straight from our satisfied customers! From birthday parties to corporate events, our Mechanical Bull rentals have garnered rave reviews for adding that extra oomph to every gathering. Customers praise our professional team, well-maintained bulls, and seamless delivery process. We take immense pride in these heartwarming testimonials, as they motivate us to continue delivering top-notch service and thrilling fun. Join the ranks of our happy customers and experience the excitement of the premier mechanical bull rental in Phoenix AZ that everyone is raving about!
Background color: Color Theme 1
What Customers are Saying
"I strongly recommend bounce then slide we have used them now for 5 years, the inflatables are always great and service is always great. i recommended this company to my nephews school and they used Bounce house rentals AZ for the event. I was able to get a pic before all the kids got to play on them. The event was amazing!"
- John H
"This company is Amazing, they let me keep my water slide over night for more than 24 hours! My kids had a great time and they gave me free tables and chairs. I called them about 5 times to make all my party arrangements and they never got frustrated with me. Great customer service even though I changed my order 2 times on them and it was all last minute!"
- Hector D
"ABSOLUTELY love this company! Met them last year due to a previous company flaking on my son's birthday event. Fortunately, my embarrassment didn't last long when Bounce then Slide got on the phone. While they were busy, they were able to squeeze us in and get to the house and set up within the hour. "
- Leslie S
Previous
Next