Tent Rentals Phoenix
If you're on the hunt for the most fabulous and functional
tent rentals Phoenix
has to offer, you've stumbled upon the ultimate party paradise! We've got you covered with the coolest tents that will transform your event into an unforgettable celebration that
Phoenix, Arizona
, will remember! From birthdays to wedding receptions to corporate gatherings, our tent rentals allow guests, attendees, and participants to celebrate comfortably while staying shaded.
Our tents are meticulously designed to elevate your party game. Rain or shine, our tents keep the festivities going strong, ensuring that your guests stay cozy and comfortable, whatever Mother Nature throws their way. When it comes to tent rentals Phoenix can trust, safety is our top priority! We take the safety and stability of our tents seriously. Our tents are made with premium materials and expertly installed to withstand all the dancing, laughter, and merriment that your event can handle.
We offer a fabulous selection of tents in various sizes and styles, making sure there's a perfect fit for every occasion, including the best wedding tent rentals in Phoenix. From cozy backyard gatherings to grand-scale celebrations, we have the right tent to match your party vision. Our friendly and professional team is here to make your tent rental experience smooth as silk. With our user-friendly website, you can easily browse the canopy tent rentals Phoenix prefers, check availability, and book the perfect one for your event in just a few clicks.
So, whether you're planning a dreamy wedding, a funky birthday bash, or a corporate extravaganza, Bounce House Rentals AZ is your one-stop shop for the tent rentals Phoenix uses to combine style, safety, and functionality. Get ready to party like there's no tomorrow under the shade of our fabulous tents. Let's turn your event into the talk of the town, one tent at a time!
The Party Tent Rentals Phoenix Uses to Add Shade to Any Event
We've got the party tent rentals Phoenix uses to keep guests comfortable and sheltered from the elements year-round! Our tent rentals are the must-have party essentials for a wide range of events that are set to be the talk of the town. From intimate gatherings to grand celebrations, our tents have got you covered – quite literally!

Outdoor weddings are transformed into fairytale affairs with our elegant and spacious Phoenix wedding tent rentals. Imagine saying "I do" under the stars, surrounded by the enchanting ambiance our tents create. Corporate events and company picnics are taken to the next level with our versatile tents. Whether you need shelter from the sun or protection from unexpected rain showers, our tents ensure a comfortable and professional setting for your guests.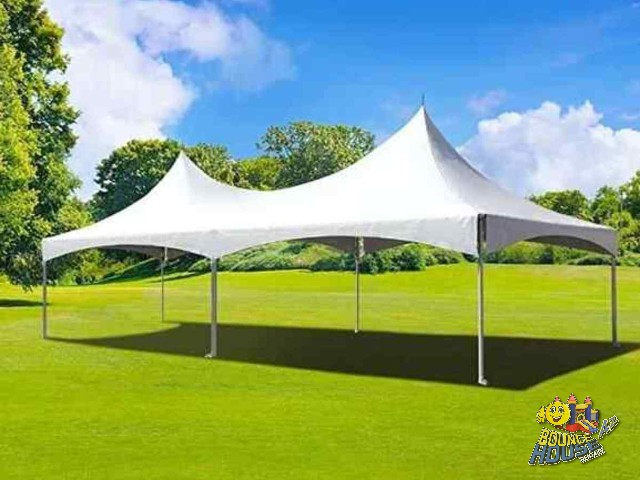 Festivals, community events, and fairs are incomplete without our tent rentals Phoenix Arizona uses to keep vendors, special attractions, interactive games, and attendees safe from the elements. They become the epicenter of attractions, drawing guests in for delightful experiences, whether it's live music, a fundraising auction, or a buffet! Coming together and celebrating shared interests has never been more convenient or comfortable.

Birthday parties, family reunions, and backyard barbecues are elevated with our cozy and stylish tents, creating the perfect space for mingling, dining, and dancing. Highlighting the many uses for the event tent rentals; Phoenix can use. No matter the occasion, we've got the party tent rentals Phoenix knows are the show-stopping additions that transform ordinary events into extraordinary experiences. So, whether you're hosting a chic wedding, a lively festival, or an intimate family gathering, count on this company to provide the perfect tent that sets the stage for unforgettable memories!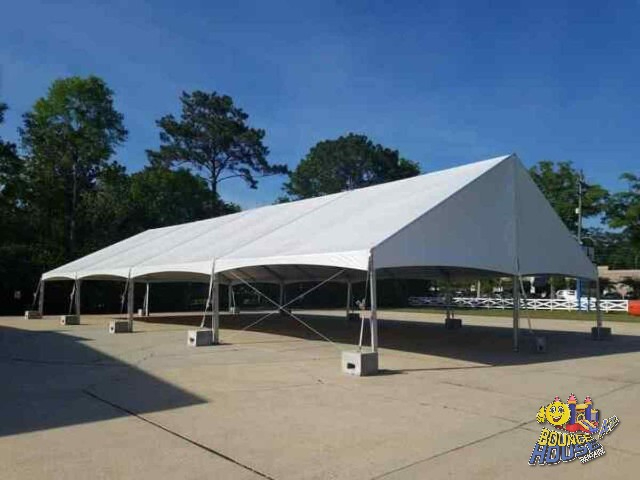 The Wedding Tent Rentals Phoenix Couples Adore
Make your dream wedding a reality with wedding tent rentals Phoenix rents for all wedding-related events, including ceremonies, receptions, rehearsal dinners, and bridal showers! Our elegant and spacious tents create an enchanting ambiance, ideal for outdoor weddings that are nothing short of magical. Picture exchanging vows under the stars, with the soft glow of twinkling lights overhead. Our tents provide a sheltered and romantic setting, ensuring a seamless celebration no matter the weather.

From intimate ceremonies to grand receptions, our tents are show-stopping additions that elevate your special day to new heights. We've even got the tent rentals Deer Valley, Phoenix can rent and use at their wedding venues Let us be a part of your love story and make your wedding day truly unforgettable!
Top-Quality Selection Of Party Tent Rentals Phoenix AZ Can Choose From
Our selection of party tent rentals Phoenix AZ can choose from at Bounce House Rentals AZ is nothing short of spectacular! We take pride in offering a diverse range of tents to suit every event's style and size. From elegant and spacious wedding tents that create a fairytale ambiance to classic tents that keep guests covered at festivals and fairs, we've got it all. Whether you're planning an intimate gathering or a grand celebration, our tents come in various sizes to match your unique vision. With our top-notch selection, you can rest assured that your event will be the talk of the town! Don't forget to add other event-planning essentials to your list, including interactive games, inflatables, event furniture, and supplies for a foam party Phoenix kids love!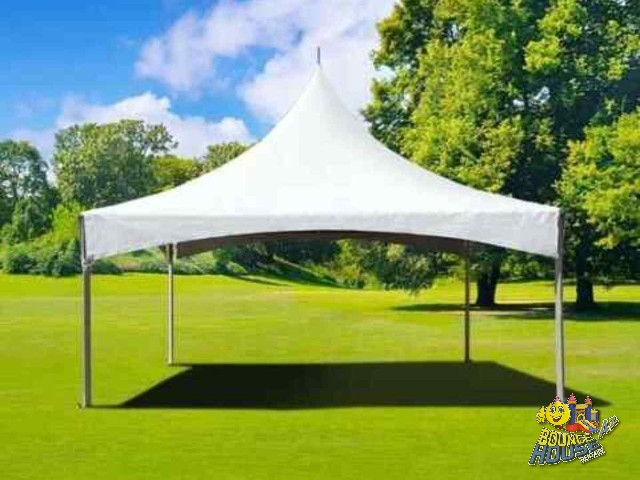 For smaller events, our 20'×20' rental is perfect and can comfortably accommodate 4-6 tables and 20-24 chairs. This elegant white tent is ideal for weddings but is also great for the casino nights party rentals tent Phoenix party planners have been looking for. This tent is available to rent for $350.00
For larger events; customers often choose our 20'×40' tent. This tent can be fully enclosed and comfortably accommodate 8-12 tables and 60-72 chairs. This tent rent starts at just $500.00 for a full day of rental time.
Our largest tent rental is our 20 x 60' white tent. This tent rental is perfect for event planners looking for Phoenix wedding tent rentals for 150 people. The interior of this tent can accommodate 12-18 tables and 72-108 chairs or more with individual standing room. This tent is currently available to rent and starts at just $750.00 for the full day.
How To Conveniently Book Our Phoenix Tent Rentals Online
Renting our fabulous Phoenix tent rentals online is a breeze! With our user-friendly website, you can secure the perfect tent for your event in just a few simple steps. Navigate to our tent rentals section, where you'll find a delightful selection of tents in various sizes and styles to match your event's needs. Click on the green "Add to Cart" button on your desired tent, and you'll be directed to an easy-to-follow booking form. Fill in your event details, including the date, time, and location, and proceed to our secure payment process. Voilà! Your tent rental reservation is confirmed, and you can rest easy knowing that your event will be well-covered. Renting Phoenix tent rentals online with our user-friendly system is quick, convenient, and hassle-free – so you can focus on creating unforgettable memories under the shade of our fantastic tents!

Delivering Tent Rentals Phoenix AZ and Maricopa County Use Year-Round
We're committed to delivering the fantastic tent rentals Phoenix AZ and the surrounding areas can depend on to provide shade and ambiance on various special occasions. No matter where your event is, we've got you covered with our extensive delivery service, which extends to Mesa, Scottsdale, Peoria, Chandler, and Gilbert.
Our tent rentals are available for delivery in the 85003, 85004, 85006, 85007, 85008, 85009, 85012, 85013, 85014, 85015, 85017, 85019, 85020, 85021, 85022, 85023, 85024, 85027, 85029, 85032, 85034, 85035, 85040, 85041, 85042, 85043, 85045, 85048, 85050, 85051, 85053, 85054, 85083, 85251, 85254, 85255, and 85282 zip codes. Wherever your event is located, we'll be there with our top-quality tent rentals near Phoenix AZ.
NOTE: Extra fees may vary depending on how far you are outside our service area.
But we don't stop at just individual events! We also partner with prominent school districts and local parks to provide tent rentals for various school events and outdoor gatherings. Our partnered school districts include Cave Creek Unified School District, Chandler Unified School District, Deer Valley Unified School District, Dysart Unified School District, Paradise Valley Unified School District, Peoria Unified School District, and Scottsdale Unified School District. Additionally, we cater to popular local parks like Margaret T. Hance Park, Encanto Park, and Civic Space Park, ensuring a delightful and comfortable experience for attendees and party planners.

With our extensive delivery service and commitment to customer satisfaction, Bounce House Rentals AZ is your go-to source for tent rentals that cater to your event's needs. From school events to parks and everything in between, count on us to deliver the tent rentals Phoenix AZ loves and make your gatherings extraordinary, one tent at a time!
FAQs About the Pop Up Tent Rentals Phoenix can Trust
If you have questions about the pop up tent rentals Phoenix uses for events year-round, we're here to help! Take a look at a selection of our frequently asked questions below, and get in touch with our team if you need any other details by giving us a call at (623) 255-9559.
Q.
Do you have any large tents?
A.
Absolutely! Our 20'x60' Phoenix AZ tent rentals fit 12-18 tables, depending on the style, and 72-108 chairs. This is the perfect option for large weddings, outdoor festivals, corporate events, and more!
Q.
Are we responsible for any damages?
A.
Customers are responsible for any unusual wear and tear or damage from blatant misuse. Customers are not responsible for normal wear and tear that occurs over time.
Q.
What tent sizes do you offer?
A.
We have 20'x20', 20'x40', and 20'x60' tents for rent. Whether you just need some coverage for fun in the sun at a backyard birthday party or need serious shade for a large outdoor festival, we've got you covered, literally and figuratively!
5-Star Service When You Rent a Wedding Tent in Phoenix from Our Team!
When you rent a wedding tent in Phoenix from Bounce House Rentals AZ, prepare for 5-star customer service, affordable prices, a hassle-free booking process, and guaranteed on-time delivery! Take a look at a selection of the positive reviews we've received from happy customers over the years and schedule a wedding tent delivery online today. Join the ranks of our delighted customers and experience the joy and excitement that our tent rentals bring to any occasion!
Background color: Color Theme 1
What Customers are Saying
"Great price for large bounce house. Customer service was wonderful and made the logistics very easy."
- Catherine K
"Great communication, great prices. Pictures sent to cell phone, very easy process."
-Niki B
"This is a great Bounce House Company they gave me a fair price they had no hidden fees of any kind and the bounce houses were cleaned and they were on time I highly recommend this company."
-Andre H
Previous
Next