Foam Party Phoenix
Get ready to have endless amounts of fun with the best foam party Phoenix has to offer from Bounce House Rentals AZ, your go-to for top-quality party rentals! Our foam parties are legendary, bringing giggles and excitement to all kinds of festive celebrations and events. Dance and bounce in a fluffy sea of foam that leaves guests grinning ear to ear!

Choose Bounce House Rentals AZ for a hassle-free, straightforward booking and party planning experience. We deliver the foam party Phoenix kids adore right to your doorstep, offering foam machines, foam pits, and more. Safety is our priority, with meticulously maintained equipment and trained staff to ensure everyone has a blast. Customizable foam party packages cater to events of all sizes and themes. From intimate gatherings to large festivals that require the ultimate glow foam party Phoenix knows and loves, we've got the perfect package for you. To top it all off, booking is a breeze with our user-friendly, interactive website.

We're proud to serve Phoenix, Arizona, and the surrounding areas of Maricopa County with our budget-friendly, industry-grade party equipment. Elevate your event with the foam party Phoenix is using to make its parties unique. Make extraordinary foam-tastic memories at your upcoming birthday, school field day, family reunion, church event, or holiday celebration with our team of friendly and experienced party professionals. Dive into the foam party craze and create unforgettable moments your guests will rave about today!
The Foam Parties Phoenix Uses to Add Fun to All Events
We've got the foam parties Phoenix and surrounding areas use to put the fun into any function! Our foam parties are the life of the party at various events, celebrations, parties, and special occasions! No matter what you're celebrating, if you're looking to infuse your day with laughter, excitement, and a whole lot of foam, we've got you covered.

Festivals and fairs come alive with the frothy fun of our foam parties. From music festivals to community events, the sight of people dancing and frolicking in the foam creates an infectious energy that spreads like wildfire. Summer parties, holiday celebrations, and poolside gatherings are taken to the next level with our foam party supplies in Phoenix AZ. Imagine cooling off under the sun with friends and family, all immersed in a sea of fluffy foam. It's the perfect way to beat the heat and create memories that will last a lifetime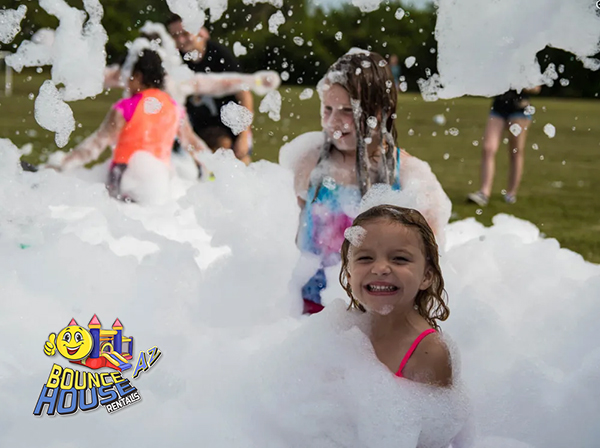 Birthday bashes and special celebrations become unforgettable with our Phoenix foam parties kids use to recreate classic childhood memories. Kids and adults alike will delight in the joyous mayhem of foam-filled festivities. Make the day extra special and unique with our Phoenix foam party supplies. College events and campus parties also get a foam makeover, bringing students together for an exhilarating and carefree time. Foam parties have a way of breaking down barriers and creating lasting connections among attendees.

Corporate team-building events and company picnics are no exception to the foam party craze. These unique and fun-filled gatherings foster camaraderie and boost team spirit like never before. No matter the event, we've got the foam parties Phoenix knows are perfect to spice things up, ensuring laughter, bonding, and a whole lot of foam-filled fun! Whether it's a large-scale festival or an intimate celebration, trust this company to make it a fantastic affair that your guests will be talking about for years to come.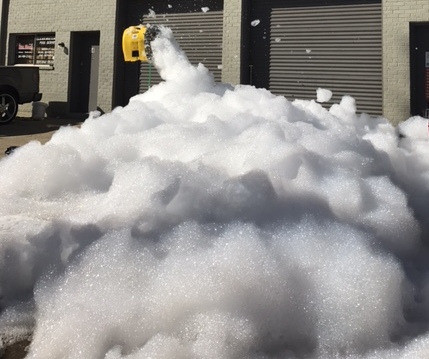 How To Schedule a Phoenix Foam Party Supply Delivery Online
Booking our Phoenix foam party online is a breeze, so you can dive right into the foam-filled excitement! Simply browse our user-friendly website and find everything you need to host a fun-filled event, including foam party supplies, interactive games, inflatables, event furniture, and the bounce house rental Phoenix can't throw parties without. Once you've chosen the perfect foam party rental for your celebration, click the green "Add to Cart" button, and you'll be guided to a straightforward booking form. Fill in your event details, including the date, time, and location, and proceed to our secure payment process. That's it! Your Phoenix foam party rental reservation is confirmed! You'll receive a confirmation email, including a digital copy of your receipt, and our team will be in touch leading up to your event date to confirm drop-off details. With our hassle-free online booking system, you'll be creating memories in no time. Get ready to turn up the foam-o-meter and have a splashing good time with Bounce House Rentals AZ!
FAQs About the Foam Party Rental Phoenix Can't Get Enough Of
If you have questions about booking the best foam party rental Phoenix has to offer, you're in the right place! Take a look at our frequently asked questions below and get in touch with us by calling (623) 255-9559 if you need any additional information. We're here to help you throw a fantastic, fun-filled foam party in Phoenix!
Q.
Is the foam solution safe for all ages?
A.
Yes. Our foam party rentals in Phoenix, Arizona are made with 100 percent biodegradable materials that are safe for people, plants, and animals of all ages, so you won't harm your lawn, driveway, or guests!
Q.
What forms of payment do you accept?
A.
We're able to process major credit cards as well as cash. You'll need exact change if you want to pay cash, as our party equipment delivery drivers do not carry any cash.
Q.
Are there any special requirements for the machine?
A.
No, there are no special requirements for booking the bubble bobble foam party Phoenix loves. Just be sure to have ample room for the machine's opening, a smooth and stable surface to set up on, and plenty of room for play and foam!
5-Stars for our Foam Party in Phoenix AZ!
Host the best foam party in Phoenix AZ with the help of Bounce House Rentals AZ! We're all about having fun, creating lasting memories, and cherishing time with friends and family. We make it as simple and straightforward as possible to host fun and fabulous events for all ages and budgets, including exciting foam parties! We take pride in receiving 5-star ratings from our fantastic customers and strive to exceed expectations with every rental. Take a look at what our wonderful customers have to say about working with our team and schedule a delivery online today!
Background color: Color Theme 1
What Customers are Saying
"We used them last year for our famous Trash Bash at Big Earls Greasy Eats. They dropped it off on time, set it up, and picked it up the next day. Our customers loved it so much we knew who to call again this year."
- Brooke D
"Great place! Good selection and punctual delivery. They were very helpful ."
- Kathy P
"Very Friendly and helpful during reservations."
- C K
Previous
Next