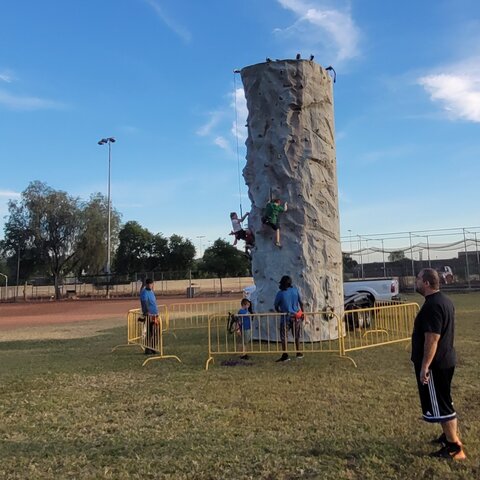 Description
AZ Rock Wall Rental
Rock wall rentals in Phoenix are very popular for many Events. They draw in Huge crowds of kids all trying to see if they can climb to the top and hit the buzzer.
Price for Rock wall is $850 for first 3 hours plus $85 Delivery Fee
Each additional hour is $199 per hour
Rock Wall Rental Phoenix
If you're looking for the rock wall rental Phoenix uses to elevate your events to new heights, you've hit the jackpot with Bounce House Rentals AZ! Get ready to scale the summit of excitement and create memories that will leave you grinning from ear to ear. Our rock wall is meticulously designed and crafted to challenge and entertain climbers of all ages and skill levels. Whether you're a novice climber taking your first brave steps or a seasoned pro looking for the ultimate climbing thrill, our rock walls have you covered.

Safety is our middle name! We take the safety of our customers seriously, and our rock walls are no exception. Each wall is constructed with top-notch materials and undergoes rigorous inspections to ensure a secure and worry-free climbing experience, making us the provider of a rock wall rental Phoenix parents, businesses, school administrators, and event planners can trust.

Whether you're hosting an event in Phoenix, Arizona, or the surrounding communities of Maricopa County, you can bet your climbing shoes that our rock climbing wall in Phoenix AZ will be the highlight of your event! We believe in making your event planning experience hassle-free and convenient. With our user-friendly website, you can easily browse our rock wall rentals, check availability, and book your favorite items in a few simple clicks. We're all about making your party planning journey as smooth as possible. Whether you're planning a birthday bash, a corporate team-building event, or a neighborhood block party, we've got the indoor rock wall climbing Phoenix uses to take your celebrations to soaring heights. Get ready to climb, conquer, and create unforgettable memories with Bounce House Rentals AZ!
Rock Wall Climbing Phoenix AZ Party Guests Will Love
We've got the rock wall climbing Phoenix AZ knows is the ultimate crowd-pleaser and is perfect for a wide variety of events that crave a touch of adventure and excitement! Whether you're hosting a community-wide festival, an outdoor church camp, or rewarding students with an activity field day, we have exciting event equipment for every occasion.

Birthday parties become epic celebrations as kids and adults face the challenge of scaling our thrilling rock walls. The cheers and laughter that fill the air create a magical atmosphere that will last a lifetime! Corporate events get a unique twist with our rock walls, adding an element of team-building and friendly competition. Colleagues work together, encouraging each other to reach the top, fostering camaraderie, and bonding in a fun and exhilarating way.

Community gatherings and school events become unforgettable affairs with our rock walls, creating an engaging centerpiece that draws crowds and keeps the energy levels high. Whether it's a fundraiser, a fair, or a festival, our rock walls will surely attract adventurers of all ages, making your event an instant hit. Church events and family reunions get a dose of excitement with the rock wall climbing Phoenix AZ can't get enough of as guests challenge themselves to conquer our rock walls, celebrating personal achievements and creating lasting memories. Not to mention, our rock walls are popular additions to sports events, where participants can take a break from the game and enjoy a thrilling climbing experience.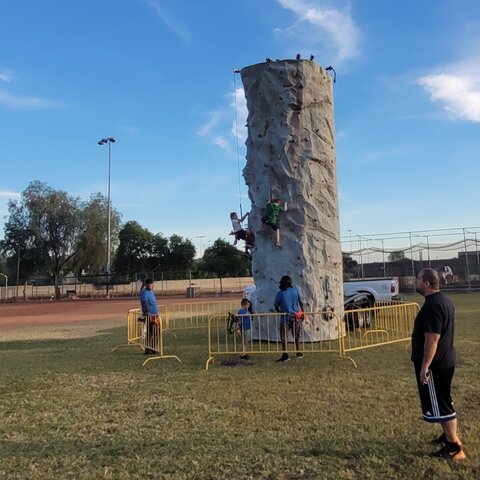 No matter the occasion, our rock wall climbing in Phoenix AZ promises non-stop fun and a sense of accomplishment as climbers reach new heights and face their fears. Don't forget to add other event planning essentials to your cart, including tents, tables, chairs, and the
porta potty rental Phoenix
depends on year-round to complete your outdoor extravaganza! Our rock walls are versatile and suitable for any setting, ensuring a memorable and action-packed experience for all. Book online today!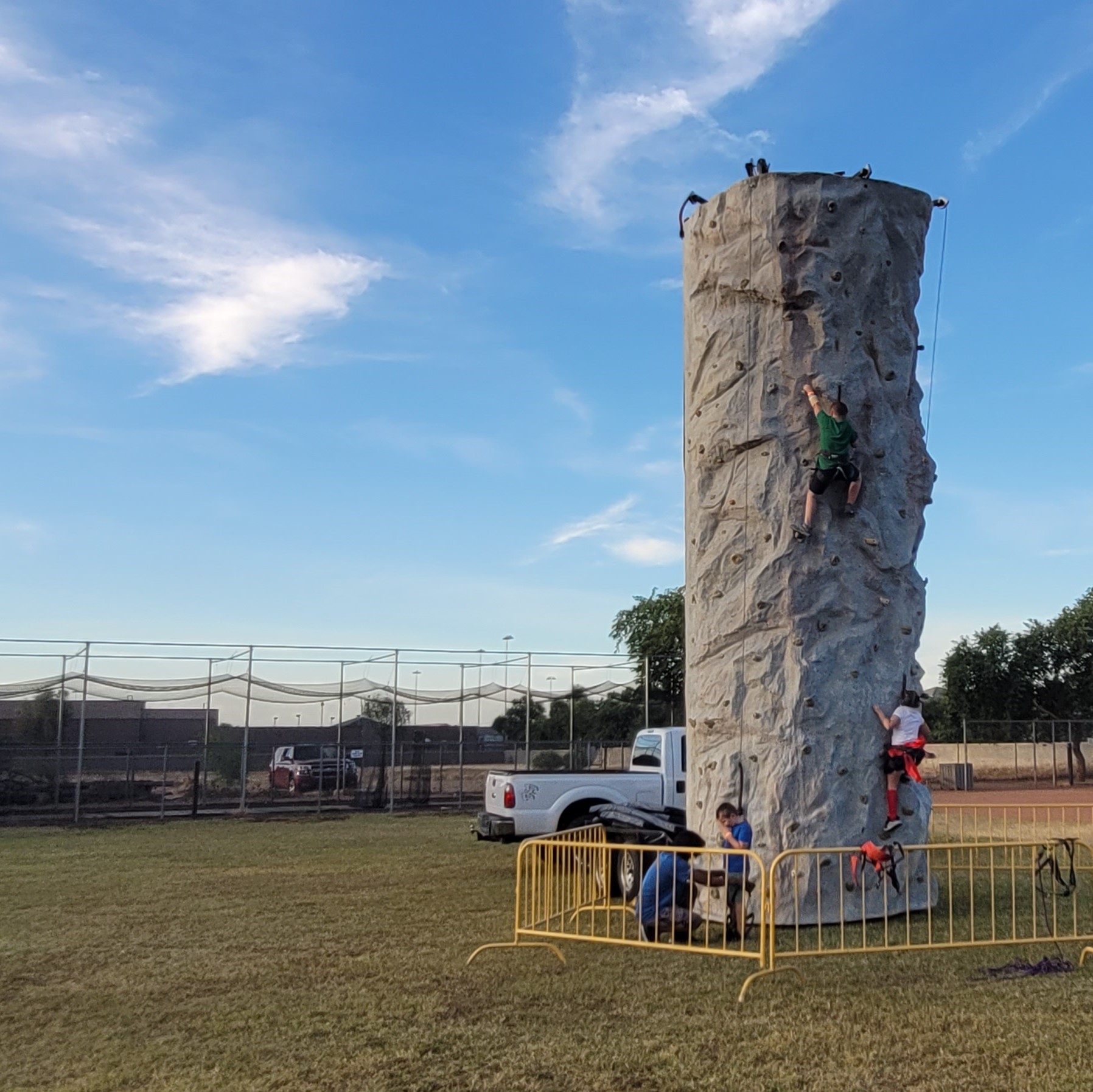 Prices for Rock Wall Climbing in Phoenix
Get ready to reach for the sky with our incredible rock wall climbing in Phoenix! Prepare to elevate your event with our thrilling and safe rock wall rentals that promise unforgettable memories. Our rock wall rentals in Phoenix are popular for many events. They draw huge crowds of kids, all trying to see if they can climb to the top and hit the buzzer. The initial three-hour rental fee for a rock wall is $850, plus an additional $85 for delivery. The price is $199 for each additional hour. Our competitive prices make us one of the most popular and affordable rock wall places Phoenix can depend on!
How to Book Our Phoenix Rock Wall Online with Ease
Booking your thrilling Phoenix rock wall online is as easy as scaling a mountain—no climbing gear required! Our user-friendly online rental system ensures a seamless and hassle-free experience. Browse our website and navigate to the "Rock Wall Rentals" category page. There, you'll find all the details about our popular rock wall rental item, including a pricing breakdown and other important details.
Once you're ready to reserve the Phoenix rock wall, simply click on the green "Add to Cart" button, and you'll be directed to our straightforward booking form. Fill in your event details, including the date, time, and location, and proceed to the secure payment process. Rest assured, your personal information is safe with us! Pay your deposit using any major credit card, and you'll be emailed a digital copy of your receipt.

With your rental reservation confirmed, our team will be in touch to discuss any specific requirements you may have and confirm the details. On the day of your event, our professional staff will handle the delivery, setup, and safety supervision, ensuring a worry-free and memorable climbing experience for all your guests. Embark on the adventure of a lifetime and book your Phoenix rental rock wall online today with this company! Get ready to conquer new heights and create unforgettable memories with the click of a button!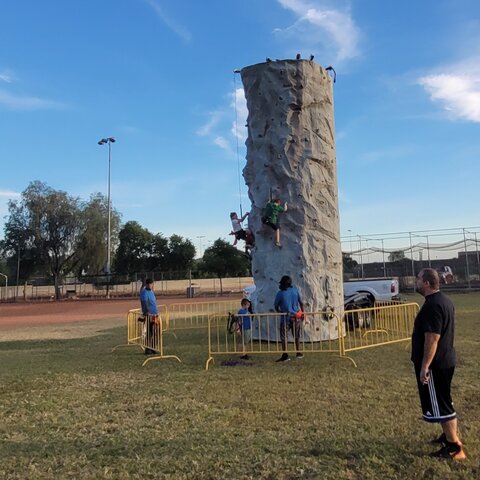 Delivering a Phoenix Rock Climbing Wall Across Maricopa County
At Bounce House Rentals AZ, we take pride in delivering our exciting Phoenix rock climbing wall rentals right to your doorstep in Phoenix, AZ, and the surrounding areas of Maricopa County. No matter where your event is, we've got you covered! We serve the following zip codes: 85003, 85004, 85006, 85007, 85008, 85009, 85012, 85013, 85014, 85015, 85017, 85019, 85020, 85021, 85022, 85023, 85024, 85027, 85029, 85032, 85034, 85035, 85040, 85041, 85042, 85043, 85045, 85048, 85050, 85051, 85053, 85054, 85083, 85251, 85254, 85255, and 85282. We're happy to deliver to our neighbors in Mesa, Scottsdale, Peoria, Chandler, and Gilbert.
Our commitment to bringing joy and adventure to various communities extends beyond individual parties. We proudly partner with prominent school districts, including Cave Creek Unified School District, Chandler Unified School District, Deer Valley Unified School District, Dysart Unified School District, Paradise Valley Unified School District, Peoria Unified School District, and Scottsdale Unified School District. Our rock walls become a focal point of excitement and learning, fostering teamwork and camaraderie among students.
NOTE: Extra fees may vary depending on how far you are outside our service area.
We take the fun outdoors, too, as we cater to local parks such as Margaret T. Hance Park, Encanto Park, and Civic Space Park. We ensure a safe and exhilarating experience for park-goers as they challenge themselves to conquer our thrilling rock walls. No matter the location or occasion, our Phoenix rock climbing wall delivery service guarantees a seamless and memorable climbing experience. So, whether you're planning a birthday party, a school event, or a community gathering, let our Rock Wall rentals elevate your celebrations to extraordinary heights! Don't forget about your guests' needs! Our portable restroom rentals Phoenix AZ can be a lifesaver at large events.
How to Rent a Portable Rock Climbing Wall in Phoenix and Other FAQs
Our team is here to be your ultimate guide to rent a portable rock climbing wall in Phoenix! Got burning questions about our services? Look no further! Read through our frequently asked questions and get in touch with our team by giving us a call at (623) 255-9559 today!
Q.
What surfaces can you set up on?
A.
Our preferred surface is grass, but we can also set it up on dirt, asphalt, or concrete. Unfortunately, we can not set up on any rocks or loose gravel because the constant rubbing would eventually destroy the vinyl jumps and make the rock wall base unstable.
Q.
Are there any special requirements to rent a rock wall?
A.
No, there are no special requirements. Be sure to have a smooth and stable surface to set up on and plenty of supervision for climbers when you rent a portable rock climbing wall in Phoenix from our company. There are requirements to use the rock wall, including close-toed shoes and a minimum and maximum weight capacity for attendees.
Q.
Does it come with a safety harness, etc.?
A.
Yes. Our rock wall rental comes with all the necessary equipment for safe setup and climbing. Our harnesses are multi-sized and fit both kids and adults.
Q.
How much does it cost to rent a rock climbing wall in Phoenix?
A.
Our exciting rock wall begins at $850 for the first three hours of rental time. Additional time is available at $199 per hour after the initial three-hour period. The delivery fee is $85.
Q.
What ages can use the rock wall?
A.
Kids of all ages have a memorable and safe experience using our rock wall rental. However, the little climbers have to be able to securely fit in the safety harness and be wearing close-toed shoes. The rock wall is safe for attendees of all ages as long as they securely fit in the harness!
The Rock Climbing Wall Phoenix AZ Customers Give 5-Stars!
Book the rock climbing wall Phoenix AZ knows and loves, and be amazed by our friendly service, attention to detail, prompt delivery, and smooth rental process! Don't just take our word for it; our satisfied customers rave about the thrills and excitement our rock wall rentals bring to their events. With glowing testimonials highlighting our top-notch service, safe and well-maintained rock walls, and hassle-free booking process, you can trust that you're in good hands. We take immense pride in these heartwarming reviews, inspiring us to keep exceeding expectations and providing epic adventures for all our customers. Join the chorus of happy clients and experience the joy and excitement everyone is raving about!
Background color: Color Theme 1
What Customers are Saying
"I highly recommend this company. They were able to accommodate me on the fly, and gave extraordinary customer service. I will use this company for next year's birthday party too."
- Noah N
"Great customer service!! Even though I gave short notice, renting from them was a easy process. I would definitely rent from them again and recommend to others!!"
- Dee P
"Bounce and Slide Rentals is great, I used them last year, again this year & will continue again and again. Best prices friendly staff. I would recommend to anyone."
- Angela M
Previous
Next