Mechanical Bull rentals AZ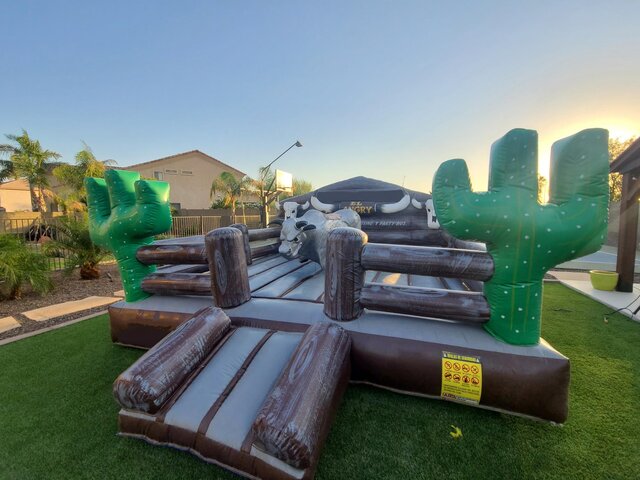 Description
Mechanical bull Rentals Gilbert, Arizona
Rent a mechanical bull for your next party in Phoenix, Mesa, Chandler, Gilbert or Scottsdale! Regardless the event you are having, renting a Mechanical Bull is sure to be a huge hit of the party! Mechanical Bull rentals are great for Corporate Event, Graduation Parties, Festivals, School Carnivals, Company Picnics, Fundraisers, Weddings, Western Theme Parties or any other event! Mechanical bulls for rent are safe and fun. ​Whether the rider is 10 years old or 50, we can adjust the mechanical bull speed to meet the rider.
These bulls have the ability of starting rides very slowly and can be acellerated to speeds according to a rider's ability. The mechanical bull can start very slow, spin or buck or simply spin for beginners. Advance riders can run the bull at a more advanced speed.
Looking for Cheap mechanical bull rentals in Scottsdale, Mesa or Phoenix? We offer the Best deals on affordable Mechanical bulls for rent in Phoenix including Chandler and Gilbert, Arizona.We offer Small Bull rentals and Big Bull rentals. Great for ages 12 and older!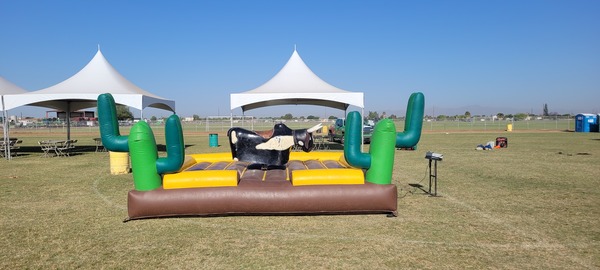 Mechanical Bull Rentals in Scottsdale and Phoenix
Make your event a blast with a Mechanical bull at your party. All our bulls include inflatable mat surrounding theme for safty. This is the perfect attraction to add to any party event, especially one with a wild west or other western theme!