Water Slide Rentals Mesa AZ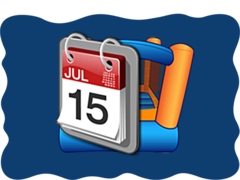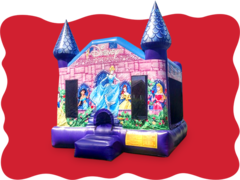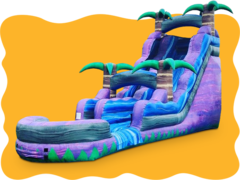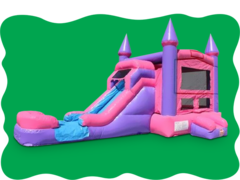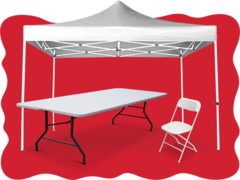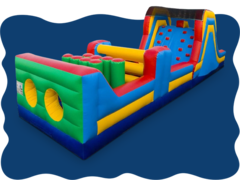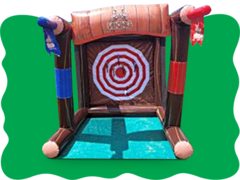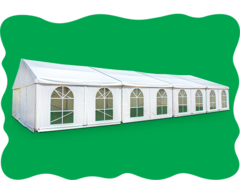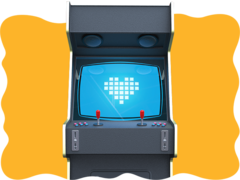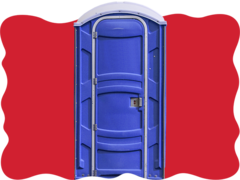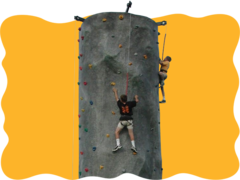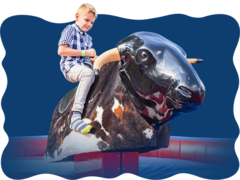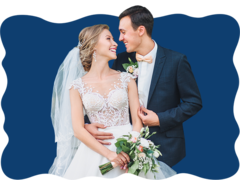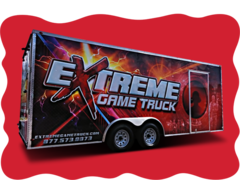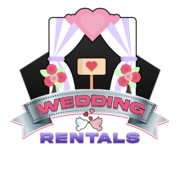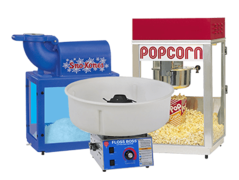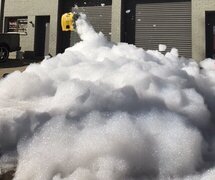 Water Slide Rentals Mesa AZ
For the #1 water slide rentals Mesa kids AND adults can't get enough of, choose the fantastic selections from AZ Bounce House Rentals! No party is complete without our entertaining and engaging inflatable rentals for all ages. Host a back-to-school celebration or add hours of healthy and safe activity to a children's camp by including our water slides that range in themes, colors, and styles to meet the needs of any celebration.
We're happy to offer delivery to Mesa, Arizona, and the surrounding areas of Maricopa County. Our customers utilize our inflatable rentals year-round for all occasions. Add excitement and countless hours of amusement to your next event with the addition of the best water slide rentals Mesa offers. Watch the kiddos slide, run, splash, and have the time of their lives with our safe, heavy-duty, and appealing rentals.
We make it as simple as possible to book water slide rentals Mesa can depend on our user-friendly online scheduling system or by giving our team a call at (602) 280-7766. Take the stress out of party planning by letting our knowledgeable staff make helpful recommendations and ensure you have everything you need to confirm your party is a hit! Browse our fun selections online and find the perfect water slide to add to your upcoming celebration.
Use Water Slide Rentals in Mesa for Every Event
Whether you're planning your toddler's birthday party or a mega celebration for a recent graduate, our water slide rentals in Mesa are the perfect source of entertainment and nonstop fun for all ages! We offer inflatables that fit the needs of any theme, budget, or timeframe, so let's raise the roof on your next party with endless hours of fun for everyone.
We regularly deliver our colorful and festive water slide rentals in Mesa for a range of celebrations, including birthdays, gender reveals, grand openings, festivals, summer camps, field days, vendor fairs, carnivals, graduation celebrations, block parties, college events, fundraisers, baby showers, family reunions, corporate team-building events, company picnics, high school reunions, and more!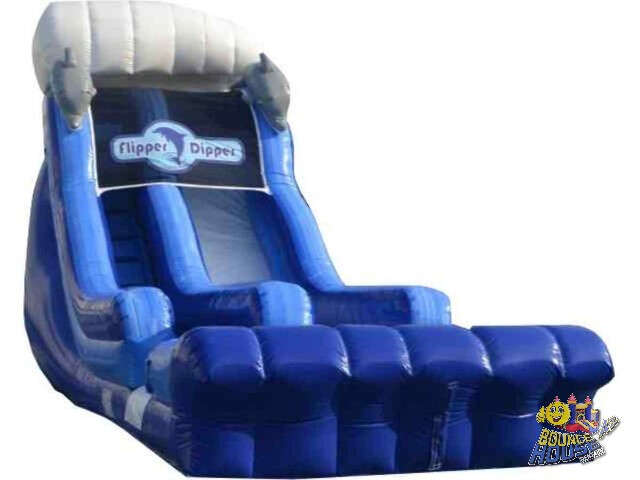 You plan the party, and we'll provide the fun! We carry dunk tanks, bounce houses, all your essential party equipment rentals, and affordable and durable water slide rentals. If you're searching for ​​water slide rentals and bounce house rentals Mesa AZ parents can trust, you're in the right spot! We carry combo bounce house slide options that combine the best of both worlds and double the fun. Our experienced team is here to help guide you through your rental options, ensuring you make the best choice for your particular event needs. We've been throwing unforgettable parties for years. Let us help you walk through your guest list, theme, and event location to choose the ultimate inflatable water slide rental Mesa trusts for your celebration! View our broad selection online and book your rental with a few easy clicks today.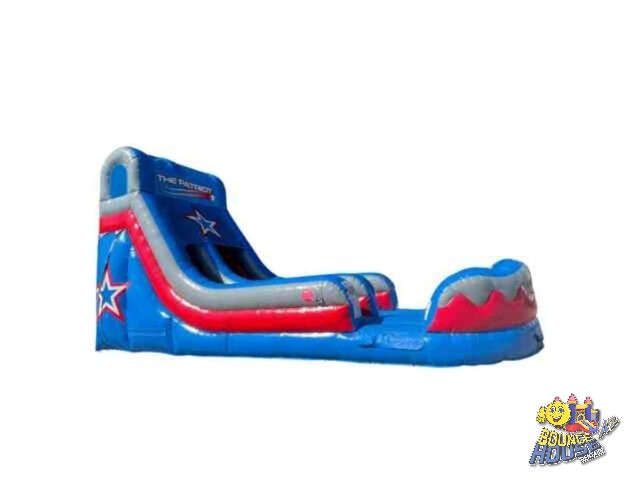 Selections for a Water Slide Rental Mesa AZ Kids Enjoy Year-Round
If you're looking for endless fun, our water slide rental Mesa AZ kids can't get enough of is the top choice to entertain for hours! We carry every version of water slides, including single-lane, dual-lane, slip and falls and combo bounce house slides. Use them outdoors to beat the heat and stay refreshed or as dry slides for indoor events to keep kids entertained safely and healthily.
Look at a few of our most popular selections below and contact us if you have any questions about how to get the party started with our 5-star reviewed rentals today!
14-Foot Cloud Single Lane Water Slide: Complete with an inflatable rainbow and clouds, this is the most precious water slide that's adored by kiddos of all ages. A fantastic gender-neutral option for all events, this rental begins at $299 for 8 hours. It is recommended for children ages five and up. This option is excellent for the cutest waterslide rentals Mesa AZ parents trust!
24-Foot Tropical Marble Double Lane Water Slide: This awe-inspiring double-lane slide is perfect for creating some friendly competition. Kiddos can see who can race to the bottom quickest in a safe and contained way. Beginning at $550 for 8 hours, this option is often rented for larger events like field days, festivals, fairs, and neighborhood block parties.
Patriot Double Lane Slip and Slide: Add excitement and entertainment to various events with one of our slip-and-slide options! Patriotically themed with red, white, and blue accents, this is a great entertainment option for Fourth of July, Memorial Day, or Labor Day celebrations. Just as much fun as our traditional inflatable water slide rentals in Mesa, Arizona, the slip-and-slide is ideal for ages 12 and up.
Why Choose Us for Your Mesa Water Slide Rentals?
We're the #1 choice for Mesa water slide rentals because we know how to throw parties in style! Our reliable, friendly, and supportive team has years of experience helping host birthdays, block parties, festivals, field days, and every event worth commemorating in between. We're here to make the inflatable rental process a positive and streamlined one so that you can focus on more important details, and rest assured that your guests will be entertained and have a blast for the duration of your event.
We work directly with industry-leading, reputable manufacturers to carry the best of the best in inflatable rentals Mesa can depend on. Made with lead-free and fire-resistant materials, our water slides are built with safety AND fun in mind. Each of our slides is complete with an inflatable splash pad for an easy landing. Most inflatables are safe for ages three and up with adult supervision. Still, we list recommended age groups for each product on their specific pages.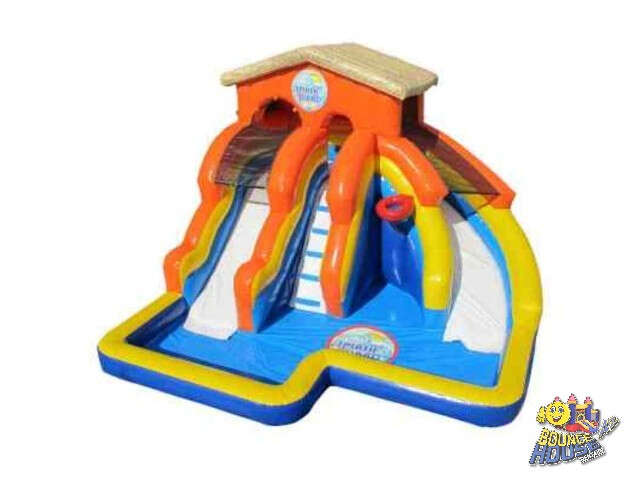 We prioritize customer safety and satisfaction as a local family-owned and operated company. We're fully licensed and insured to provide premier Mesa water slide rentals to our communities. We have no doubts that we carry the perfect slide for your upcoming event and are here to ensure you have all the information necessary to host a memorable party. View our selections online and reserve your rental from the comfort of your home anytime, anywhere!
How to Book a Water Slide Rental in Mesa
When you're ready to book the best water slide rental in Mesa, prepare to be amazed at how easy the process is from start to finish! We offer two convenient options for scheduling your rental with our team of party professionals: give us a call at (602) 280-7766 or use our online booking system.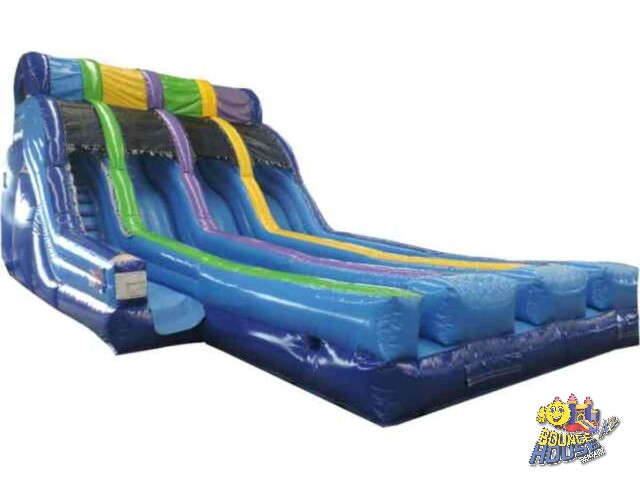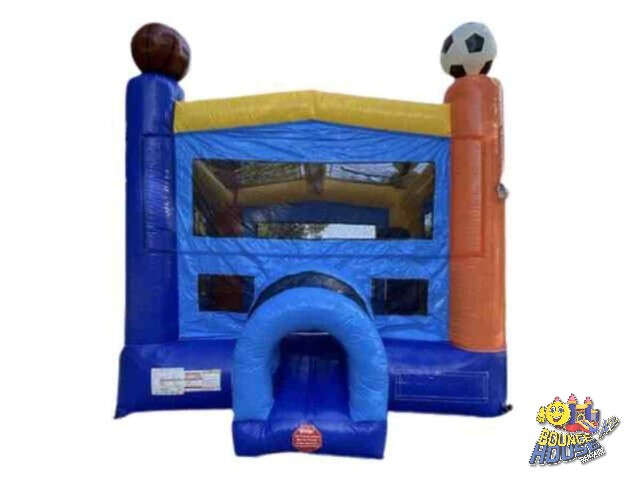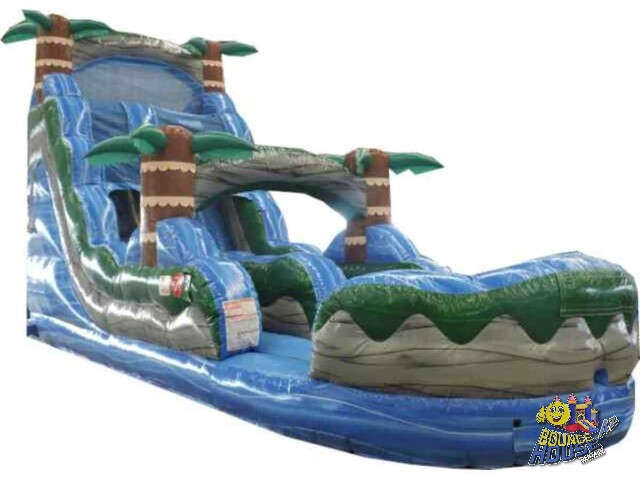 We're confident you'll find the perfect inflatable for your upcoming event out of our expansive inventory that will keep your guests entertained and having the time of their lives for hours on end. Follow the simple steps for booking online below, and let us know if you have any questions: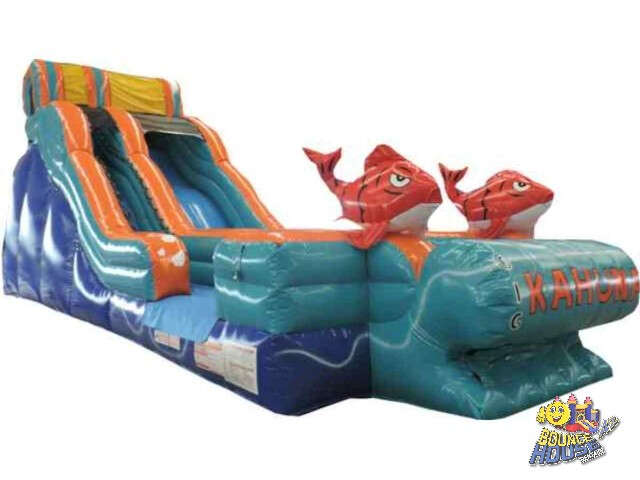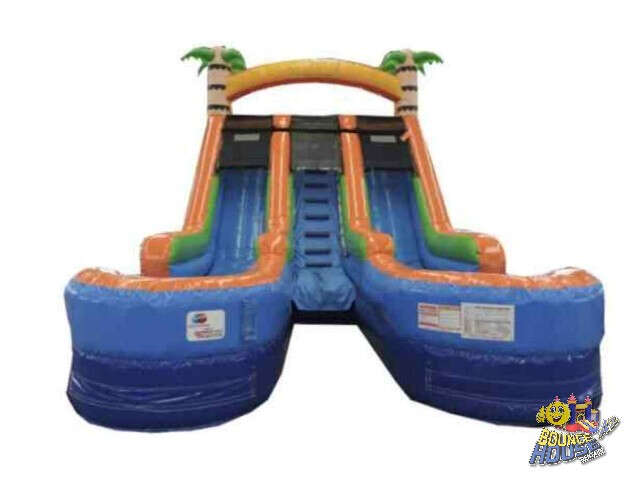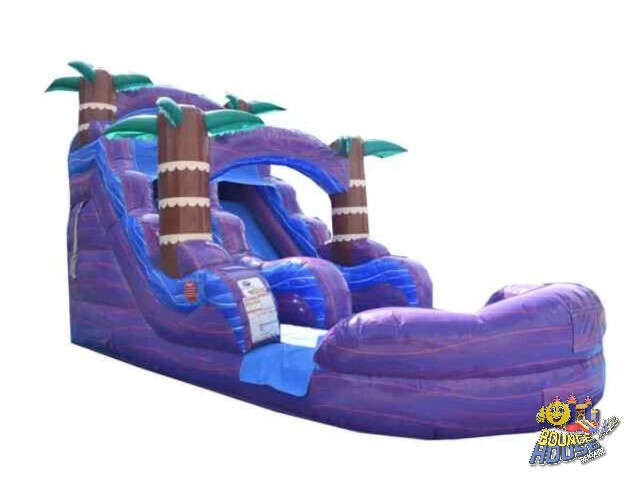 1. Click the green "Book Now" button in the upper right corner from any page on our website.
2. Select the date and timeframe of your event using the calendar function. Let us know if it's a multi-day or overnight event.
3. View our unique selections in the "Water Slide Rentals" category.
4. Once you find the best water slide rental in Mesa for your event, click the green "Book Now" button next to the price.
5. This page provides essential information like dimensions, recommended ages, and outlets needed. If these details suit your specific event needs, click the green "Add to Cart" button.
6. At this point, you'll be taken to your cart, where you can continue to shop or checkout. To wrap up your shopping and book your rental, click the green "Checkout" button.
7. Input your contact, billing, and event information, and let us know if you'd like to purchase a damage waiver.
8. Once you submit those essential details, you may checkout using our secure system with any major credit card.
Once you've completed payment for the Mesa inflatable rentals, you'll receive a confirmation email with a copy of your receipt and contract. Our team will contact you leading up to your event to confirm the best delivery window for your schedule. We make it super simple to book online, but if you'd prefer to speak directly with one of our team members, please call us at (602) 280-7766. We'll happily guide you through your options and get you on the books today!
Delivering the Fun with Water Slides for Rent Mesa AZ Kids AND Parents Can Use
Book the best water slides for rent Mesa AZ has to offer with the AZ Bounce House Rentals team! We're excited to offer delivery across Maricopa County, including the 85120, 85142, 85201, 85202, 85203, 85204, 85205, 85206, 85207, 85208, 85209, 85210, 85212, 85213, 85215, 85233, 85234, 85281, and 85283 zip codes. Our delivery areas include the communities of Scottsdale and Phoenix as well. If you don't see your zip code or city listed, contact our team by calling us at (602) 280-7766 to see if we can accommodate your party needs today. In Scottsdale? No problem! We've got a variety of fantastic water slide rentals in Scottsdale, AZ available for your next event.
Many customers enjoy hosting their parties at one of our amazing public parks like Pioneer Park, Riverview Park, or Red Mountain Park. Take advantage of their amenities and throw a memorable event with the help of one of our Mesa water slide options that will keep guests entertained and having a blast for hours on end. Let our knowledgeable team help walk you through the process, ensuring your event is a walk in the park! Most public spaces need access to power outlets. Still, as your all-inclusive event equipment provider, we have the generator rental you'll need to keep the party going in that setting. Please note that all park deliveries require a $75 delivery fee.
We regularly partner with small businesses, churches, organizations, residents, daycare facilities, corporations, and Mesa Public Schools to help throw unforgettable parties that suit every theme, timeframe, and budget. College students from Mesa Community College, Arizona College, and Carrington College regularly utilize our rentals for events and university-based celebrations. Putting together a collaborative school field day or employee team-building weekend has never been easing with the added entertainment of our water slides for rent Mesa AZ loves. Add some friendly competition and countless exciting moments to any occasion or celebration. We're confident we have the perfect inflatable for your school reunion, fundraising event, or church festival. Browse our selections and book your rental online today!

Simply select your event's date, and our system will show you what party equipment is available for that date and time. Need your rental a little longer or have a big event coming up that you want to ensure every detail is in place? Contact us today, and we can work together on planning the most amazing event ever!
FAQs About Our Water Slide Rental Mesa Families Love
Q.
How much does it cost to rent a water slide?
A.
Our prices vary based on the size and style of the slide and the rental period. We do our best to keep our prices low and standards high! Our water slides begin at $299 for 8 hours and go up. We understand many customers are searching for cheap water slide rentals Mesa and AZ can count on. Still, along with competitively priced options, we prioritize helpful customer support throughout the rental process and on-time delivery, so you don't have to sweat if the entertainment will arrive on time. We do our best to handle all the heavy lifting so you can focus on your guests. Please note that the prices listed do not include tax, but you can view the total, including tax, once you've added items to your cart and checkout.
Q.
Does the rental period include set up and tear down?
A.
No. Our team will arrive hours before your event starts to ensure we're out of your hair long before your guests arrive. Once you book your rental by calling us or reserving online, one of our team members will be in touch to confirm a drop-off window that works for your schedule. We typically arrive at least one hour before your event begins. Still, sometimes, we must come earlier or even the night before to ensure all our rentals are delivered on time. We will always communicate with you about when we must provide the water slide in Mesa AZ.
Q.
Can water slides be set up indoors?
A.
Yes! Our water slides can be set up indoors and used as dry slides, or we carry dry slides that cannot be connected to water for indoor events or cooler weather. We often set up slides indoors for schools, churches, and businesses, hosting in their auditoriums, cafeterias, gyms, or fellowship halls. They cannot be connected to a water source inside for the safety of our inflatables and your guests. Still, they can be used as dry slide entertainment for hours!
If you have any additional questions about how to book the best water slide rental Mesa can't throw parties without, contact our team by calling us at (602) 280-7766 or browsing our website to learn more about our rentals. We have years of experience helping to throw birthday parties, graduation celebrations, grand openings, festivals, and everything in between!
Positive Reviews for Our Water Slides for Rent in Mesa AZ
We're thrilled to have been part of hundreds of celebrations over the years by providing the best water slides for rent in Mesa AZ! It's always our goal to exceed expectations and ensure you have the opportunity to enjoy your event just as much as your guests. Let us handle the heavy lifting and take the stress out of party planning with our entertaining inflatable options, on-time delivery, and friendly customer support.

Over the years, we've become the go-to choice for graduations, school field days, and birthday party rentals Mesa can count on. Let our experience go to work for you and help create lasting memories all year long with the added help of our super safe and exciting water slide rentals.

Take a look at what a few of our happy customers have to say about their experience working with our team and book your rental online today!
What Customers are Saying
We had so much fun the first day for my son's 3rd birthday that we negotiated a second day via text. They gave me a GREAT DEAL for day 2. They really made my kids birthday a special event."
-R. Zink
"Do not look any further for a waterslide rental. The other companies you'll find are a complete waste of your time and money. I love this company. They have my business and trust. The bottom line is they really care about people and that will make the difference in your experience."
-L. Lynd
"Great service! I called hours before my party and was able to rent a water slide.... Equipment was clean and so fun to use!"
-Z. Barder
Previous
Next